Dr. Mark A. Cohen, M.D.
Dr. Mark A. Cohen, M.D., works hard every day to ensure that all of his patients receive the most advanced treatment from the most compassionate caregivers.

A native of Kansas City, Dr. Cohen graduated from the University of Kansas School of Medicine. He served his residency at the University of Miami Department of Dermatology, where he received the outstanding resident in surgery award.

Mohs surgery has become the standard, and most effective, treatment for most types of skin cancer. But not all physicians offering the procedure have completed a fellowship in the precise surgical technique. Dr. Cohen has, because he is dedicated to providing the very best care to his patients.

Dr. Cohen serves as the Director of Dermatologic Surgery for the University of Kansas School of Medicine. His other professional accomplishments include being recognized as a Fellow of the American College of Mohs Surgery and the American Academy of Dermatology. He is board certified and a diplomate of the American Board of Dermatology, and his papers have been published in peer-review journals.

Dr. Cohen began his private practice in Miami before moving back home to Kansas City to found the Kansas City Skin & Cancer Center. As the Center grows, Dr. Cohen remains dedicated to serving each patient.
Dr. Kimberly R. Schoofs, M.D.
Dr. Kimberly R. Schoofs, M.D., brings an impressive record of patient care and academic research to her role as partner at the Kansas City Skin & Cancer Center.

A Wisconsin native, Dr. Schoofs graduated from the University of Wisconsin and the Medical College of Wisconsin. She completed her dermatology residency and dermatopathology fellowship at the Mayo Clinic in Rochester, Minnesota, where she served as chief resident. While there, she received awards for excellence in patient care, education, and research.

Dr. Schoofs began private practice in Minneapolis before moving to her husband's hometown of Kansas City and joining Dr. Cohen.

Dr. Schoofs is a Fellow of the American Academy of Dermatology and the American Society of Dermatopathology. She is a board-certified dermatologist and dermatopathologist. Her papers have been published in peer-reviewed journals, and she has given presentations at both national and international academic conferences. Dr. Schoofs was named "Best Dermatologist" by Best of the Northland 2013.

Dr. Schoofs appreciates the variety brought to each day through her work in general dermatology, cosmetic dermatology, and dermatopathology. That appreciation results in the very best care for her patients.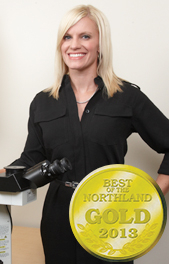 Tammy Grosserode, P.A.
Tammy Cummins Grosserode is a physician assistant certified by the National Commission on Certification of Physician Assistants. She has more than 12 years of experience working as a dermatology P.A.

After graduating from the University of Nebraska at Kearney summa cum laude, Tammy completed her physician assistant studies with distinction at the University of Nebraska College of Medicine. She then worked at the University of Nebraska Medical Center Department of Dermatology for more than 5 years. She also practiced dermatology P.A. in Tulsa, OK.

A graduate of Liberty High School, Tammy returned to Missouri in 2004. She is a member of the American Academy of Physician Assistants, the Society of Dermatology Physician Assistants, and Kansas City Dermatology.


Tammy practices general medical dermatology, performing general skin exams, skin cancer screenings, biopsies, and minor dermatologic procedures. She enjoys educating patients about their conditions and treatment plans.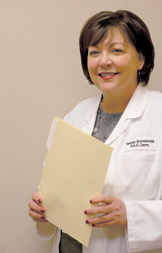 Emily Redmond, P.A.
Emily Redmond is a certified physician assistant. Emily graduated from Saint Louis University in 2004 with a master's degree in physician assistant studies. She has worked in dermatology for several years and joined Dr. Cohen at Kansas City Skin & Cancer Center in January 2009.

Emily provides a broad range of dermatological services including evaluations of skin cancer, acne, and eczema. She enjoys treating and 
educating her patients, helping them to manage their chronic skin conditions and 
improve their quality of life.






Mary Zahau-Loehner, N.P.
Mary Zahau-Loehner is a board certified nurse practitioner. Mary received a Master of Science in nursing from the University of Missouri-Kansas City. She has provided dermatology services for several years and joined Dr. Cohen at Kansas City Skin & Cancer Center in 2011.

Mary is trained to evaluate, diagnose, and treat acute and chronic skin diseases including acne, eczema, and psoriasis. She can provide a total body skin exam for skin cancer screenings and perform biopsies and minor procedures.

Mary takes pride in providing first-rate, compassionate care.




Ashley Roth
Esthetician Ashley Roth works personally with each of her patients to design an individualized skin care program. Sometimes, that means advocating smart lifestyle choices – a healthy diet or limiting sun exposure. Other times, it can mean a blend of products and treatments chosen specifically to suit the patient's complexion needs.

Ashley graduated from the Heritage College Esthetics program and has remained dedicated to staying up-to-date with the latest products and procedures. She brings an unmatched knowledge of products, including Image, SkinMedica, and Glytone brands.

Ashley is certified on the Center's state-of-the-art lasers, and she has advanced training for a wide range of procedures, including microdermabrasion, chemical peels, laser hair removal, intense pulsed light (IPL), mineral makeup, and waxing. Kansas City Skin & Cancer Center is fortunate to have such a committed professional as its in-house esthetician.